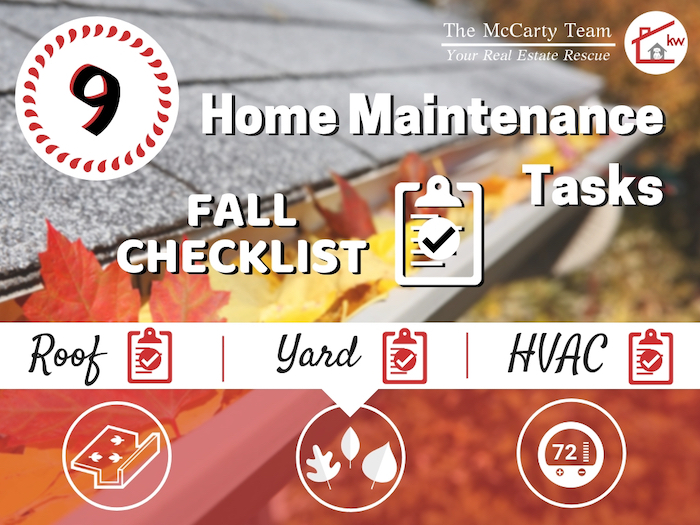 Fall season is here and winter is right around the corner. Even though it may be tempting to just sit back and let the snow start falling, you have several tasks that need your attention. If these tasks are ignored, you may cause damage to your home or experience energy inefficiency.

Inspect the trees on your property and look for any damaged branches, especially those that are hanging near or over your home. You do not want these branches breaking under the weight of snow and crashing on your home. Prune your trees and cut off any branches that are damaged. Also, be sure to prune those overgrown bushes in front of your home.

Often ignored, cleaning gutters and downspouts is critical for keeping your roof healthy. Gutters and downspouts tend to be packed with leaves, stale water and roof debris (especially if you have an asphalt roof). If this task is too much, don't risk your safety and hire a reputable gutter cleaning service. *Tip: A hose extension sprayer will wash away the dirt and decomposed leaves and a leaf blower with special extension attachment will help blow away leaves too.
When you do not clear your gutters and downspouts, you run the risk of damaging your roof and foundation. If gutters are full and when ice dams form, you run the risk of damaged roof shingles and water leaks. If downspouts aren't cleared and properly pointed away from your home, you run the risk of water collecting at your foundation which may cause structural foundation cracks.
To promote healthy grass practices, make sure you rake up the leaves in your lawn and cut your grass one last time toward the end of October or the beginning of November. Raise the mower deck slightly for your final cut. If the blades of grass are too short or too long, you encourage lawn diseases during winter like pink or grey snow mold.
Also, you do not want large quantities of decomposing leaves sitting on your lawn all winter long. The piled up leaves can damage the grass by possibly blocking the sunlight and/or reducing water evaporation resulting in possible fungus, mold and other lawn diseases. It must be noted that mulched up leaves in small quantities spread out over the lawn can actually serve as compost for your lawn and offers healthy nutrients.

Do you live in an older home or has it been some time since you've updated your windows? Many homeowners have drafty windows and experience energy deficiencies during cold months. Contrary to belief, it does not take thousands of dollars to correct this problem. It's as simple as buying some caulk and sealing up those cracks. If you don't mind, you could always buy shrink window plastic (cellophane) to really seal up the entire window, but some may deem this practice tacky.

Something so simple and so easy to administer in the fall can lead to such a large headache if avoided. We are talking about emptying hoses and storing them indoors as well as shutting off the water supply to outside spigots (outside faucet). Too many homeowners have wasted perfectly good hoses by leaving them outside all winter long with water sitting in them. Even more costly is forgetting to turn off the spigot's main water source. If water freezes in the spigot and pipe, you could have a broken constant running spigot, left alone could be very costly to your foundation and basement.

When it comes to your HVAC (Heating, Ventilation and Air Conditioning) system, take 15 minutes and perform these few steps. 1) Change the furnace filter if not done in a while. 2) Cover the central air conditioning unit outside. Snow can become very heavy as it continues to pile up. That heavy snow can damage the fan blades inside the unit. Covering the unit can be as easy as placing a piece of plywood on top or by purchasing an actual cover from your local hardware store. 3) This step may take some time, but don't forget to remove and properly store your window AC units if you have any.

You have already taken care of your gutters, now you need to inspect your roof. Please note: roofs can be dangerous so consult with a professional before proceeding. Inspect the roof and look for damaged shingles, missing shingles or gaps in the flashing around chimneys. The last thing you want to have is vulnerable spots on your roof that may result in water leaking into your home.

Fireplaces are such a great source of heat not to mention they're an absolute thrill to relax by during the winter months. However, that comfort is all for nothing if you don't keep up the maintenance on the fireplace, especially the chimney itself. Uncleaned chimneys can become a fire hazard. Creosote residue builds up and over time can start a fire. Hire a professional chimney sweeper and have it cleaned, especially if it has been years since the last cleaning. If you have used those "cleaning fire logs", it still would be wise to hire that professional to inspect your chimney. The cost is worth the peace of mind.
Don't neglect your driveway, especially if it's a blacktop driveway. Before the winter months, have the driveway re-sealed. Untreated driveways can be very helpless against snow, ice and salt. Cracks become larger and holes become deeper. Hire a company and have them come out and seal the driveway. Also, don't forget to stake your driveway out for plowing purposes. The last thing you want is for the plow truck to grind up your lawn.